I decided that I would create some easy felt superhero capes for B's fifth b'day but knowing my current level of dedication to crafty ventures I did not want to take on more than I could handle so these little capes are very simple, no-sew and inexpensive! Woo-hoo! Ok on with the deets ….
MATERIALS:
 
STEP 1.
Measure and cut felt: Because I was making a bunch of these capes I bought a yard each of couple of different colors of felt and was able to cut out 3-4 capes (depending on how well I cut) from each one and use the extra yardage to also cut out the co-ordinating circles for the motif on the back.
First I measured along the short side of my felt to 27.5″ and cut up along the whole 72″ to get my capes separated from the scraps (that you will use later for the colored circles on the back).
Then I made the first cape by measuring up 21″ on both sides and folding up to that point (giving you a 10.5″ fold), then marking 6″ up on one side and cutting along this diagonal to the other 10.5″ side.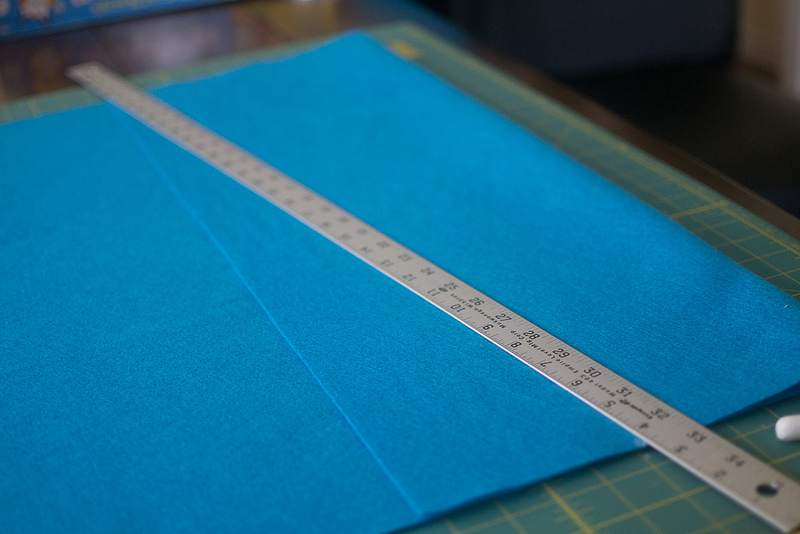 This gives you your first cape (with a little bit of scrap) and a diagonal edge that you can just fold up to cut your next one by measuring 6″ on the short side and then cutting along the diagonal that was made from the first cape  … and so on and so on till 4 capes were cut out . Each cape should be an approximate 27.5″ x 12″x  21″
I don't want to freak you out or overwhelm you, but if you feel brave you can click on this little graphic that I made to see how you can maximize the yard of 72″ craft felt to get as many capes as you can, but as you can see it is really tiny, it's hardly even there, so you can just ignore it if you feel as though this is just too much detail for the casual crafter in you.
STEP 2.
Trace and cut out neck: Keep your cut out cape folded in half and place this template down and trace to cut out for the neck of the cape. TIP: Just make sure that you place the side that says FOLD on the folded center of your cape.
I recommend creating just one first and trying it on a toddler to make sure that looks right and to your liking before going ahead and mass-producing it. My template seemed to work fine for the 3-6-year-olds I made it for if you trust me :)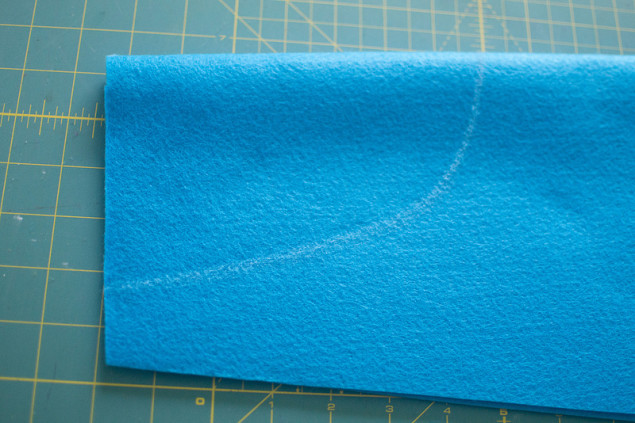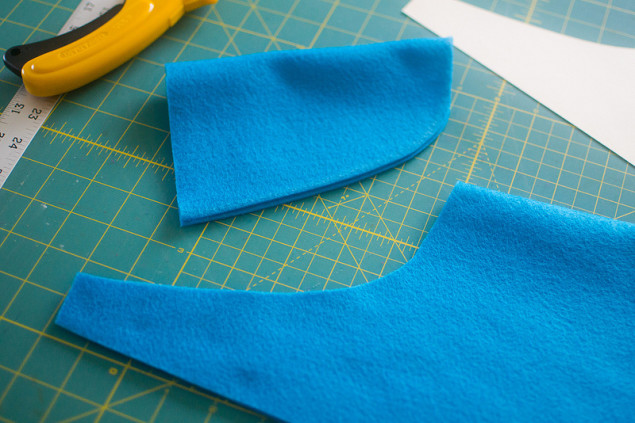 STEP 3.
Creating the motif on the back: The kids are the superhero with the motif on these capes, I wanted to leave it open to their imagination and desires as to what kind of superhero they were so I did not want to brand them with Spiderman and Wonder Woman … ok, ok, so the Spiderman applique would have taken me 5 hours to cut out and stars have like 10 cuts, don't judge me. But seriously, I really wanted the boys and girls to choose whatever color they wanted and invent their own super-self.  Anyway, feel free to use any design you want, but here is the star and circle I used in case you want to go in this direction too.
So the first step to cut out your circle, if you are using scissors feel free to use this template for a 7.5″ diameter circle. I you are using a circle cutter like the Olfa Rotary circle cutter, use a 3.75″ radius. I got mine for chrismika last year and totally forgot I had it until I started cutting these bad boys out with scissors (not that it is not hard to do with scissors, but it is a little more time-consuming). I totally recommend this tool for cutting out accurate and FAST circles and it is a breeze to use!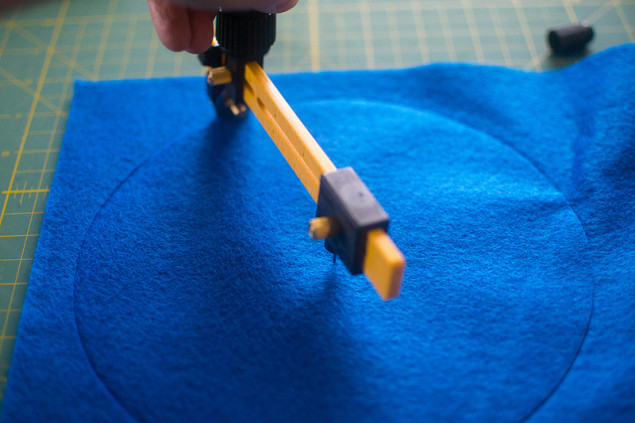 Once you have your circle you now need the star.  I really liked the idea of having a silver shiny star so I opted for tissue lame fabric which is super shiny and just a little bit disco, which every superhero needs.  The only problem about tissue lame is that it frays like a mo'fo' … this is why we need the magic of Pellon Wonder-Under Transfer Web
.
Trace your stars onto the PAPER side of your Transfer Web, you should be able to fit 3 wide, I would just trace out about 6 for now so that you don't have a piece to big to iron in the next step.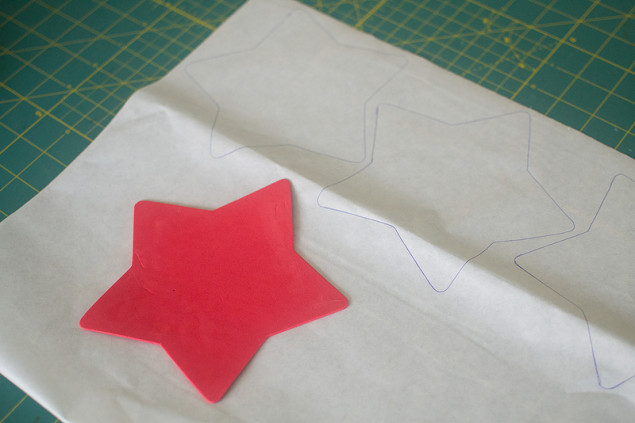 Ironing the sandwich:
Lay out your Pellon Transfer Web with sticky side up, traced PAPER side down on ironing board
Place down the tissue lame (both sides seem the same to me)
Place on thin piece of fabric (like a scrap of old cotton sheet) for iron and heat protection
Iron slowly on "cotton" heat setting (NO STEAM) smoothing out as you go – dont worry if you get some creases, they seem to even out when you peel off the backing. On this step you CAN drag the iron around to press evenly.
Now you have your Pellon ironed onto your tissue lame and you can go ahead and cut out your shapes.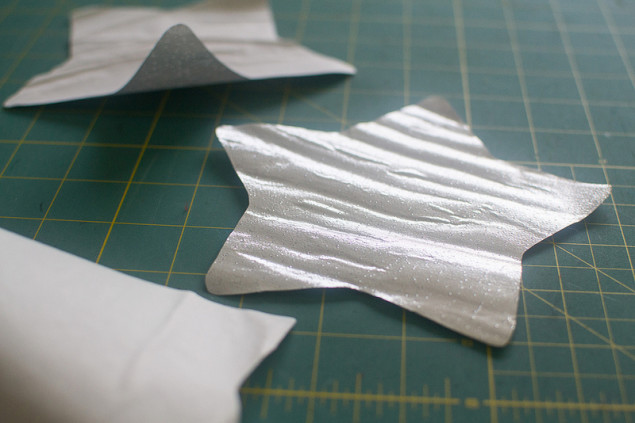 Next you want to peel off the paper backing on you star and iron it onto your felt.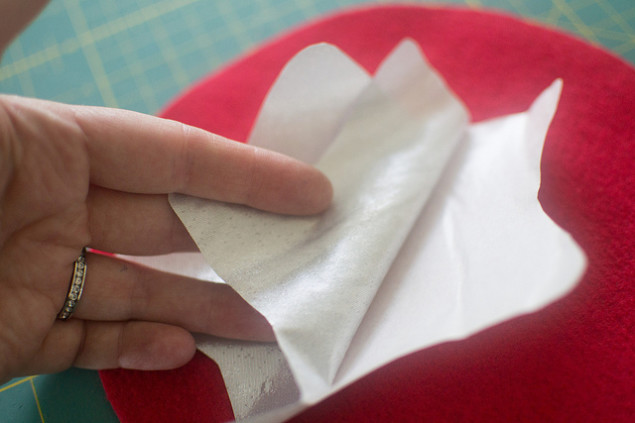 Place felt circle on ironing board
Lay star sticky side DOWN on top of the felt
Cover with thin cotton scrap (old sheet, tea towel etc.) again
Press down – DONT slide the iron around it will cause the lame to fray. Just press down for 4 seconds then lift and place down on another area for 4 seconds until you have covered the whole star.
STEP 4.
Sticking the motif on: I used spray adhesive to stick the motif on the back of the cape because it is faster than using the web again and ironing felt also changes the texture and color a little so you would have to iron the entire cape to make it all look and feel even. I used Elmers Craft Bond Spray and just made sure I stuck the motif on really fast (less than 15 seconds) so as not to invoke the removable qualities of this spray – just a note, this is all I had on hand, but feel free to use any other fabric adhesive you have on hand, probably one with more permanency would be preferred – I have heard good things about  Aleene's Fusion Spray  from sewing friends
I placed my stars about 3.5″ from the neck hole, but you can place them wherever looks good to you. I created a little placeholder card to put down so that I could go outside to spray then run back in and place the circle-star really fast with some vague accuracy.
Step 5:
Final step, adding the closure: I used sticky-back velcro for my closures and I kinda regret this decision, even though I made and tested a cape the week before and the velcro held up fine it was coming unstuck on game day which was a real bummer. So, I would advise using the sew-on Velcro and affixing with hot glue or sewing on for a more lasting effect.
DONE – time to party!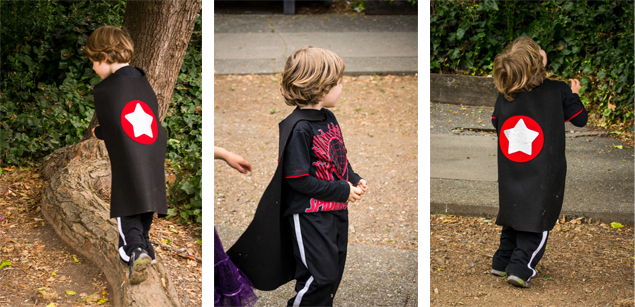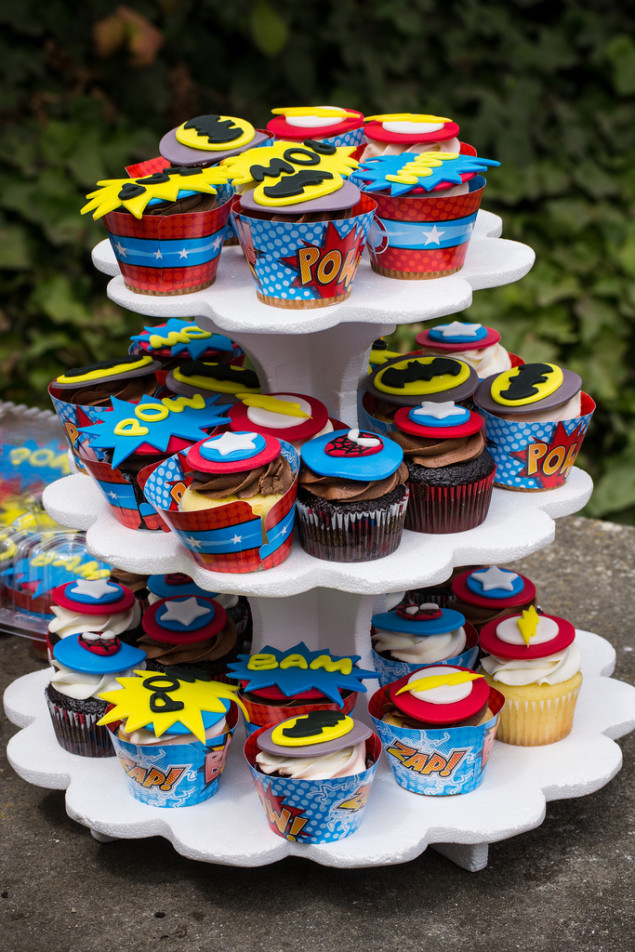 Superhero cupcakes made by our friend Yolanda Santiago
*I am an Amazon Affiliate, and purchasing ANY items using these links will help support my crafty explorations at no additional cost to you! ♥ Thank you.